The most and best goods imported from China
best goods for importing from China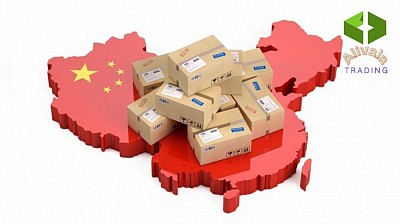 best goods for importing from China
What are the best imported goods from China?
Importing from China is one of the most prosperous businesses. In this article, we want to talk about the best goods to import from China. One of the best goods that can be imported from China  is fabric , especially silk fabric. Silk fabric is one of the goods that is produced in the best possible quality by Chinese manufacturers. Also, silk fabric is one of the very old products of China and has a long history
As you know, China is producing a variety of high-quality products, which by exporting these products to the whole country, has been able to meet the needs of many global markets. In fact, the use of Chinese products can be cost-effective for many consumers. take into account and meet your needs using these products, in fact, we want to provide you with information about the best goods imported from China
In general, all the products produced in China have the ability to be included in the list of the best products, but in general, it chooses products such as bags and clothes as the best options, while you want to import shoes. you can import these products to Iran easily and without any trouble and meet the needs of many people, but regarding clothes, I can say that clothes can be considered one of the best imported goods from China. The reason is that the customs of China are very close to our country, people can use these clothes to meet their general needs.
Apart from these cases, it is possible to easily import products into the country by using commercial companies that are very knowledgeable in this field. In fact, you can get help from very large and reliable commercial companies so that you can learn different ways and methods and small details. Find out in this area
In these cases, different phones can be considered as another very popular option in the field of importing the best goods from China. When you want to buy a very high-quality product in various Iranian shops, you can note that these products are produced They are from China, and by using these products, you can understand their quality well, while Xiaomi is one of the most popular types of phones imported from China, and it has attracted many fans in recent years.
Clothing is always imported from this country. Audio and video equipment is another one of these goods. Laptops, computers and mobile phones always enter Iran from China
According to estimates, in the last three years, the import of Xiaomi phones has attracted more attention than other brands, and the price of this phone is very reasonable in China, and the demand for its purchase is always felt in Iran, so Xiaomi phones are one of the best imported products from Another product that always has a very good price in China is all kinds of vegetables. Beetroot is also imported from China to Iran for sugar production. To get more information about this, you can refer to the rest of the text.
Easy import of the best goods from China
In order to  import from China in the most convenient way possible, you need to refer to reputable businesses such as Ali Wala Trading. This company will introduce you to the best goods imported from China. It will also import your purchased goods through a contract. does it online, then it achieves your satisfaction as soon as possible by packing and carrying out transportation and customs work.
During the contract, this company undertakes to deliver your goods to you completely safe at the known quality and price. Also, if financial damage occurs to your goods, the company guarantees to pay you the financial loss. It is very low from China with Aliwala Trading Company. The special representatives and experts of Aliwala Trading Company have received the necessary training in the field of import and giving you advice and are fully familiar with customs laws.
Internet import of the most profitable goods from China 
Internet import is an easy way to buy from other countries. You can also do online shopping with the help of Aliwala Trading Company. In this purchase, you should pay attention to buy profitable goods. If the purchase cost is higher, your income will increase
You can get the necessary help from the experts of this company regarding the import procedures, of course, there is no need to carry out the procedures personally, because during the contract, this company undertakes all the import procedures from China, in this way, you will get the best imported goods from China. you receive
Buying goods from China has a lot of benefits for traders and businessmen in this  field. In principle, the increase in demand for various goods makes import considered as one of the good opportunities to gain profit and ultimately the prosperity and progress of business. to be
Importing goods from China is more suitable for traders than other countries in the world, and importing goods from this country can be the best opportunity to create a new market in your country. Importing from this country has many and varied advantages.
China is one of the most powerful and large countries in the field of trade in the world, which produces and supplies various goods and products to the world markets. For this reason, a professional trader with the help of many years of experience and novice traders with the help of experienced experts and consultants in In this field, they can choose the best goods imported from China and get a high profit by buying and selling them
List  of the most  imported goods from China
Every year, the customs provides statistics on the amount of exports and imports from different foreign countries. The list of products that have been imported from China to our country in recent years is diverse and many. For example, we can introduce some of these imported goods as the best imported goods from China. Among these goods, the following items can be mentioned. did
Different types of food
Food for aquatic animals
Vegetable seeds
 All kinds of passenger cars and trucks
Various stationery
reel
thread
 shoe
gloves
Kitchen Utensils
insecticide
Why are electronic devices among the best imported goods from China?
In today's world, technology and digital equipment are very important, and for this reason, importing advanced and smart equipment such as smart watches with new and diverse brands can be considered among the ideal and excellent options for importing from China, as well as mobile phones and laptops. Tops are among the smart electronic devices that are among the most consumed products in today's world, and there is hardly anyone who does not use one or both of them. Living in today's world is highly dependent on these products. Due to the corona virus, most of the work that we used to do face-to-face has been turned into non-face-to-face methods, and many people continue their work offline and online, as well as students, due to the corona virus, they have to cancel their studies. They continue through non-attendance and online methods and learn educational materials online, and university teachers and professors alsoIn this way, they provide them with the necessary training, so it can be said that the types of mobile phones, laptops and their accessories such as chargers, phone cases, headphones and hands-free and other items are among the useful and practical products that can Considered as the best goods imported from China
What do the best imported goods from China depend on?
The issue of what are the best imported goods from China depends on which country in the world the goods are sent to the customs and also depends on the level of demand in a country's market for Chinese goods.
In order to be able to find out the exact list of goods imported from China to all countries, as well as the amount of transactions and exchanges for the goods, we suggest that you refer to the websites of commercial and manufacturing and global marketing companies, or consult consultants. And get help from experts in this field so that you can analyze the market well before you pay for this work and avoid wasting your capital and money.
Most of the goods imported from China to our country have high profits. In the following, we will introduce the list of the most important and best imported goods from China, but be careful that this list is not a complete list of imported Chinese goods, and for a better and more accurate examination of the condition of imported goods, it is better to consult with experts and with Consult experience in this field
List of imported items from China
As we said, we would like to introduce you to the list of the main and best imported goods from China, including industrial machinery, machine spare parts, stationery and stationery, various types of passenger cars and heavy vehicles. such as trucks, etc., various toys, all kinds of clothes, packaged food, agricultural products such as rice, corn, wheat and barley, agricultural equipment; Building and construction products, various types of irons, alloy steels, clay, foodstuffs, various vegetables and fruits, legumes, shrimps, citrus fruits, spices, medicinal plants, fancy appliances, various household appliances, decor, All kinds of decorative boxes and other mentioned items
It is possible that in the list above, most of the goods that we have mentioned are among the best imported goods from China, which you may have been surprised to see, even if some of these goods are not among the most profitable Chinese imported goods in your opinion, and even their existence You may find it funny in this list, but in any case, you cannot deny the fact that these goods are among the best sources of income for China.
Strange goods imported from China
It is better to know that in the list of goods imported from China, there are items and goods that you may be surprised to find. Mentioned below
Various decorative objects such as statues or wooden decorative items, which may not be seen as necessary in our country at first glance
 Various handicrafts such as maraq, turning, inlay, mesh and more
Jewelry box
Spoon and fork box
match
 Support and pantyhose
beeswax
 Sand
Clay
The best goods imported from China
Imported goods from China that are classified as the best and most profitable are selected according to various factors and can be different based on issues such as customer taste and customer needs in different countries.
In the following, we introduce the best goods to import from China to Iran
 Industrial machinery and parts 
Computer and mobile accessories and parts 
Chemical and mineral raw materials 
Construction parts and all kinds of household appliances
The most goods imported  from China  in  2018 and 2019
In recent years, Iran has imported a lot of goods from China. In order to know the best goods imported from China, it is better to take a look at the list of the most goods imported from China in 1998 and 1999. These goods are:
 Cereals 3.6 billion US dollars 13.2% of total imports 
Machinery, including computers and laptops, $3.5 billion, 13% of total imports
Electrical machinery and equipment $2.1 billion, 7.8% of total imports
Medical and technical optical devices 1.3 billion dollars 4.9% percent of total imports
Organic chemicals $1.3 billion, 4.6% of total imports
Pharmaceuticals 1.1 billion dollars 4.2% percent of total imports
Oilseeds $1 billion, 3.8% of total imports
Food industry waste, animal fodder, $922.6 million, 3.4% of total imports  
 Plastic and plastic products $911.2 million, 3.4% of total imports 
Vegetable, animal fats, waxes, oils, 817.3 million dollars, 3% of the total import 
As we mentioned, various goods can be among the best imported goods made of denim, which detailed investigation and research on them will greatly help the success of your business. The best and most profitable goods imported from China in categories They are divided in different ways that understanding them can help you a lot in your import work
Some good suggestions on importing profitable goods from China
 There are many profitable products to import from China and the demand for Chinese goods is increasing day by day. China can supply all its products all over the world
 China is a highly productive country and can meet the needs and demands of its customers all over the world. Traders know that they can have many options to explore in China
 But choosing the best and most profitable product is very important when importing from China. Otherwise, you'll keep switching over the years. Here are the most profitable and popular products to import from China.
  Small vehicles and spare parts 
 The automobile market is growing day by day  , and China is one of the leading suppliers of automobiles and spare parts. In addition, many countries import various car parts for repair. This is the best industry that can bring many opportunities and profits for export companies
 Chinese manufacturers understand the needs of their customers and therefore often introduce new models
 In this way, China not only supplies auto parts, but also promotes new initiatives in the auto industry.
 The most demanded vehicle is the motorcycle because it is suitable for the developing countries of the world. Also, the motorcycle is efficient and very easy to maintain. Therefore, for traders, vehicles are the best opportunity to make significant profits
  Plastic
 Plastic goods are in high demand and the reason is urbanization. There are a large number of plastic consumers around the world and they can import most plastic products from China at a low price. Plastic is the primary material used in packaging, for toys, It is used to make bottles and in many industries as a raw material for the preparation of goods. Due to the high consumption of plastic, there is a high demand for it and it provides a high profit margin for imports
 However, in most regions, local suppliers are struggling to meet the demand for plastic. But since its demand is increasing day by day, importing plastic from China has become a necessary requirement
  brush
 Brushes, be it makeup or color, are used by the masses. So, you can enter them to earn profit
 Brushes vary greatly in quality, as some come with synthetic fibers while others are synthetic. So, choose the item which is highly required by the customers and start your business knowing now women are very much concerned about the quality of the products. So be careful when using makeup brushes. They come in different sizes and designs, consider customer demand when importing brushes. If you are looking for the best products to import from China, brushes are the most practical choice.
 clothing
 Clothing is the basic need of every human being and therefore it is always in demand. China offers you high-quality materials and clothing that can be imported anywhere in the world. You can import second-hand clothes from many countries, such as America or England or Japan. Well, since China offers you the best quality, so now most of the importers prefer Chinese new clothes to import.
 Now Chinese suppliers are trying to make clothes according to customers' demand, traditions and customs. Many importers buy Chinese textiles and alter them to create new clothing or decorative items in their city.
 And since you buy clothes in bulk, it lowers the price and gives you the profit you need. There is no doubt that clothing and textiles are the most profitable products imported from China
  toy
 Selling toys can be a profitable business anywhere on the planet. But the point is, which type of toy should you bring in?
 Also, it can only be a good option if you have a large crowd of kids. Otherwise, you will lose all your investments. So, try to consider these factors before importing toys from China
 Well, China can provide you with all kinds of toys for kids of all ages at low prices. Take some time to research the market demand and then make a wise decision on the tool you import
 Chinese markets offer you unique and new toys at the lowest possible cost. It's real and toys generate a significant margin of revenue
  shoe
 You can import anything from China, and it gives you a huge profit margin, but shoes are at the top. China offers all kinds of shoes such as sneakers, running shoes, soccer shoes, pumps, platform heels, wedge heels, stilettos and many more.
 China is self-sufficient in raw materials and labor is very cheap, which is why manufacturers offer goods at the lowest prices. And you can resell all these products to earn a high profit margin
  Furniture
 The demand for quality furniture and home decor items is increasing with time. Everyone wants to raise the standard of living and there they try to provide unique, new and fashionable goods. Just like other items, China can also provide you with the latest furniture designs
 Importing large goods from the border is a bit difficult. But since home decor and high standards are like necessary evils, you can make the necessary profit. Therefore, this is one of the most vital factors in increasing the demand for furniture to be imported from China
Sports equipment
 Everyone wants to keep it healthy and fit these days. In addition to exercise, exercise is also one of the cheapest and best ways to keep fit and get the body you need
 To exercise, you need equipment or you have to join a gym, while exercise is almost free. In addition, games allow you to breathe in fresh air and instill sportsmanship in players. That's why today people prefer sports to women
 This is the reason why you will be in high demand for sports equipment. Customers request sports equipment such as football, volleyball, racket, stick, ball and many more.
 Therefore, you can earn a lot of profit. Moreover, all these goods are very easy to import and do not require extra care. Therefore, it can be the best option for your business
List of goods imported from China to Iran
According to the United Nations International Trade Database (COMTRADE), Iran's imports from China in 2018 were around 10.25 billion dollars. In the following, you will see the list of goods imported from China to Iran:
Machines , boilers
Electrical and electronic equipment
Vehicles other than railways, trams
Organic chemicals
Iron and steel and iron or steel products
Plastic and rubber
Paper and cardboard, paper and cardboard pulp products
Miscellaneous chemical products
Optical, photo, technical, medical devices
Inorganic chemicals